We had the idea to do a "Chopped" Home Group dinner for our latest dinner.  Have you seen that show on Food Network? The basic idea is that there are mystery ingredients and the chefs have to make up dishes with what's in the basket. We divided up the group into the teams so everyone brought and ingredient for either the appetizer, entree or dessert.  Ben and I didn't know what people would be bringing.  Once we uncovered our "basket" we just started making it up!  It was too much fun!
So for the appetizer we had bacon, two different kinds of Gouda – Smoked and Buffalo Wing (which was like Pepper Jack amped up!), puff pastry and Roma tomatoes.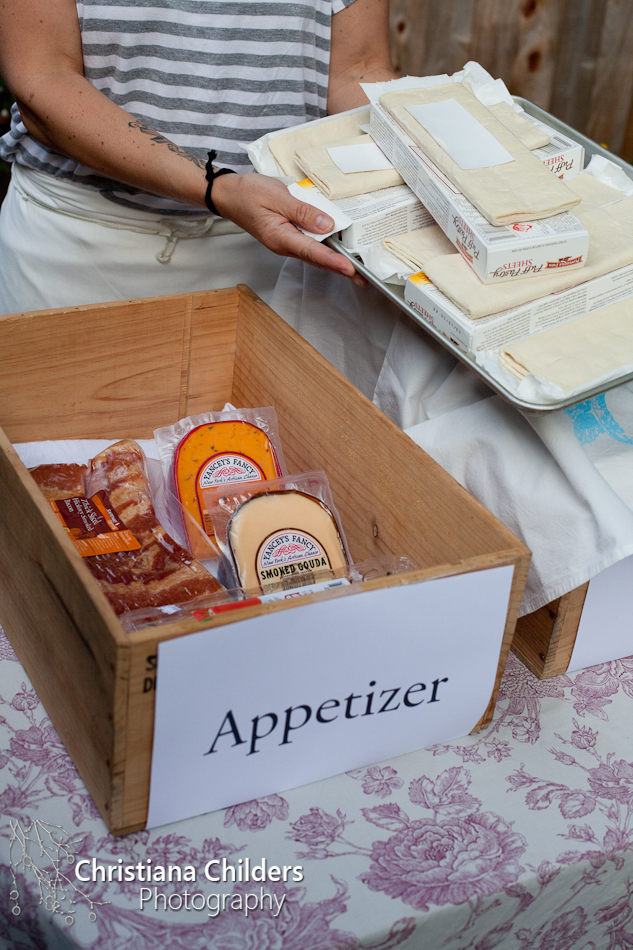 We cut out the puff pastry in rounds and baked them, roasted the tomatoes and then stacked them and topped them with cheese and broiled it.  Then made a mixed green salad with bacon.  Darn tasty –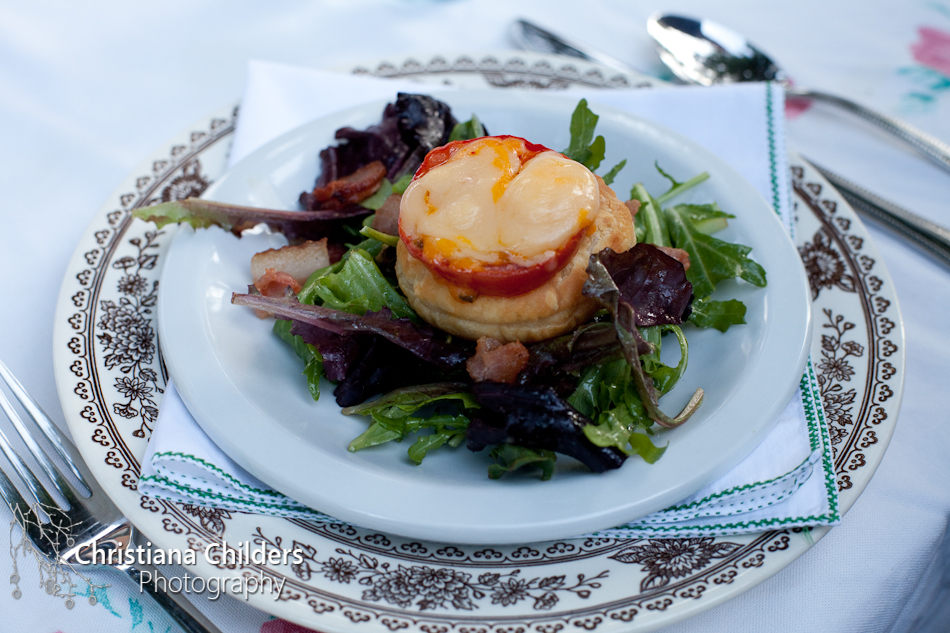 For the Entree Round we were given artichokes, chicken sausage, sweet potatoes and Pecorino Romano Cheese.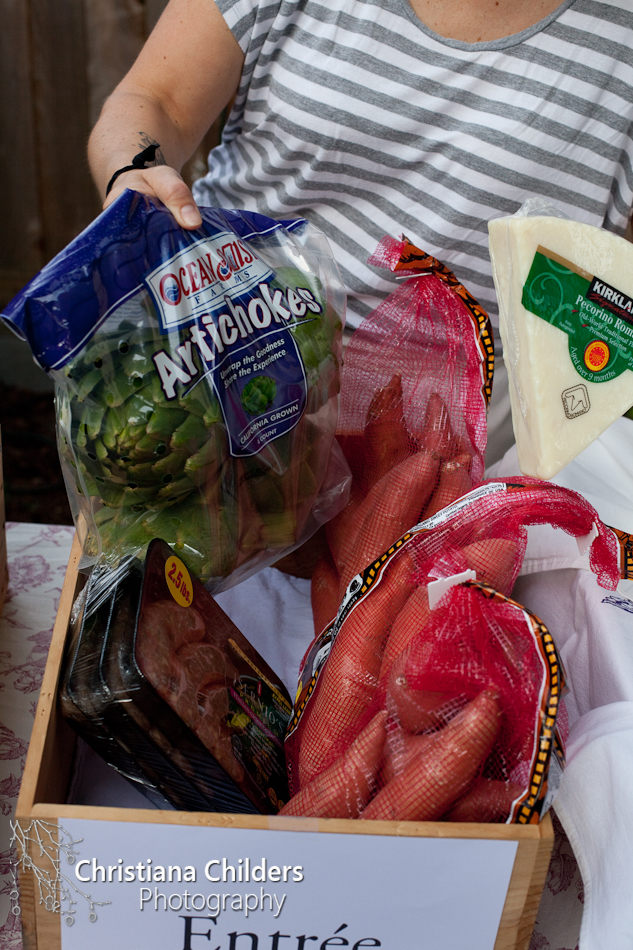 We steamed the artichokes, then cut them in half, pulled out the middle leaves and choke, then grilled them.  Meanwhile we made a hash with the sweet potatoes and the chicken sausage adding onions and lemon thyme from the garden.  We cooked this in some of the leftover bacon grease from the app.  Then we stuffed the artichokes with the hash, added a grated Pecorino and Panko topping and then put it under the broiler to brown the topping.  We then covered it with a sauce made with sour cream, lemons, limes, Worcestershire, mayo, red wine vinegar, salt, pepper, Dijon and dill.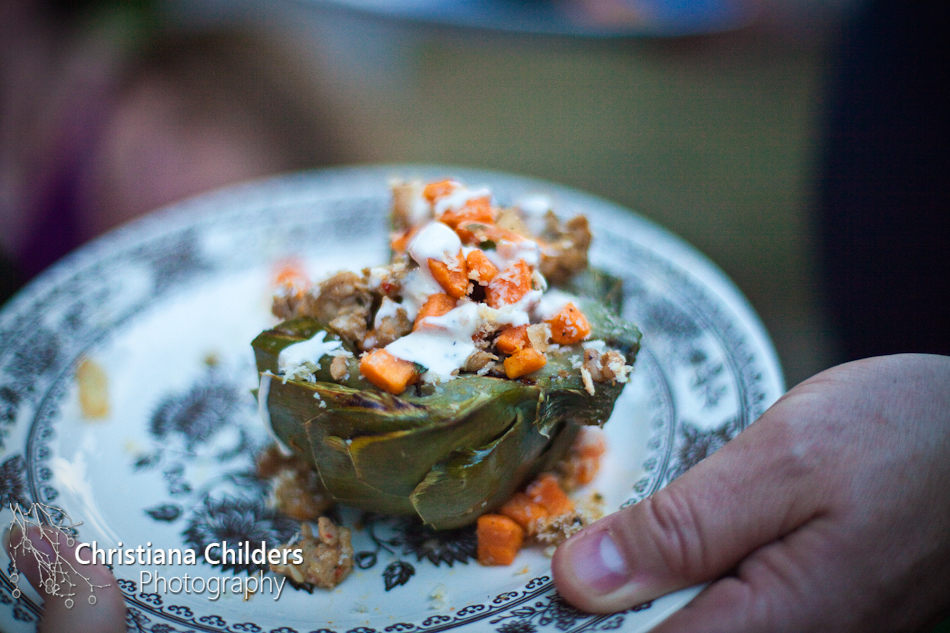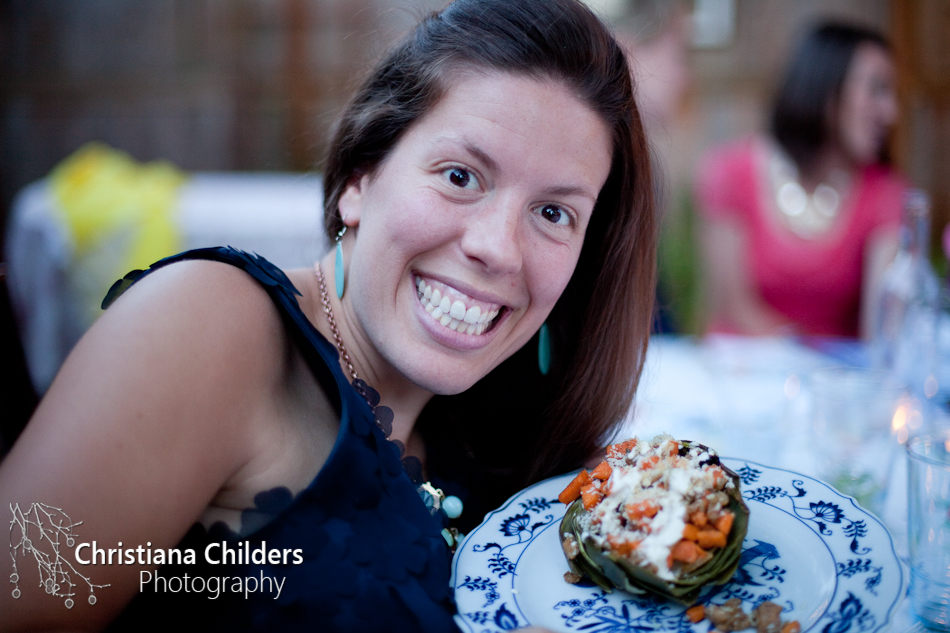 We forgot to get a before photo of the basket for dessert but it was blackberries, Cocoa Pebbles cereal, and pistachios.  We made a blackberry sauce with Grand Marnier, sugar and orange zest and boiled it down.  Then we shucked the pistachios and blended them with some of the Cocoa Pebbles cereal and it made kind of like a chocolatey nut butter.  We added that to the rest of the cereal with some butter and sugar and baked it.  We then mixed whipping cream with some powdered sugar and vanilla and folded it together with some Mascarpone cheese. We assembled it all together like so –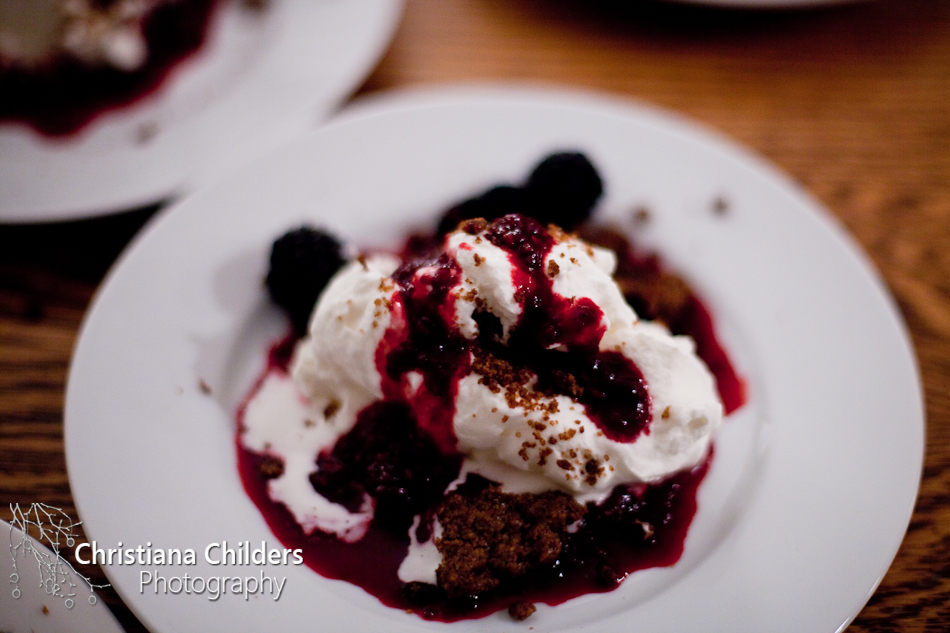 It was really good!!  I might even make it again it was that good!
Ahh, good times.  Fun party.  My people….