I did a photo shoot this weekend that I'm so proud of and I'm dying to post about! One of my favorite photos of my life has come out of it. But I have to wait until the first of June as it is a surprise for the family.  Obvisiously, they know I took pictures of them but they can't see the final product because it is getting rolled into their house remodel which is being done Trading Graces.  Trading Graces is a whole post on its own. It's so exciting!  I can't wait to tell you all more soon!!
Meanwhile, I got to go to an Fashion Show called "Sunny Mood" with some local designers in Seattle on Friday which was really fun!  The designers where uber talented.  I'm not much of a high fashion gal so I was really there for the art but I did really like what I saw in the fashion show.  The venue for the show was so cool also.  It's called Sole Repair on Capital Hill.  It's what I always wanted in my dream home which looks a lot like a warehouse apartment.  Exposed brick walls, giant metal beams and a funky huge roll up window in the front.  My friend Neece Clark did all the art for the show (and this is how I knew about the show).  She had some stunning paintings up and it is so fun to see her work evolve.  Just when you can't imagine it being better!  I'm fortunate to own some of her art and this show made me want even more! "Honey, would it be OK if we sold one of our cars to buy a painting?"  I'm almost there.
I was also so impressed with the floral design at the show.  So creative!!  Here's a photo I took on my iPhone of my friend Mary and the dress form bouquet.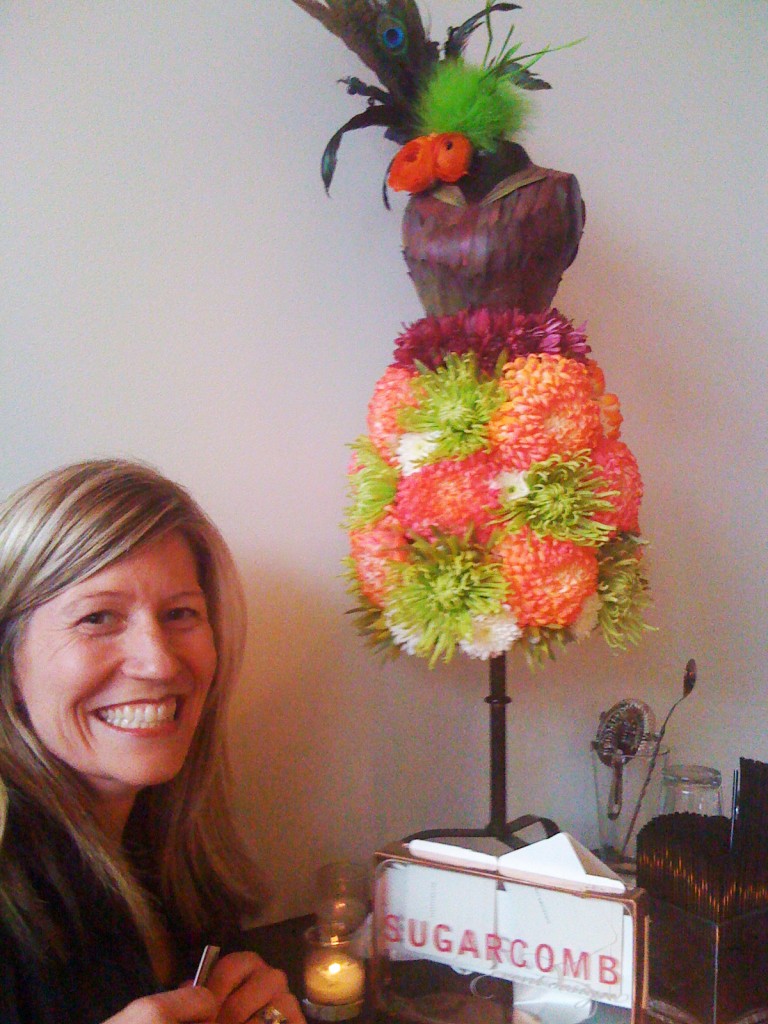 Isn't that clever?! And isn't Mary the cutest thing?!  The floral designer is Meghan Stoller (meghannaehr@hotmail.com) and her business is called Mum.  Now I kind of want to have a wedding so I can have clever flower arrangements done by Meghan.  "Honey, we are selling the car and getting married….again."